Keitaro and Village Earth supporting the UN Sustainable Development Goals
The United Nations Global Compact sets guidelines for businesses on sustainability and social responsibility and drives them to take action to support the Sustainable Development Goals. These goals are the blueprint to achieve a better and more sustainable future for all. They address the global challenges we face, including poverty, inequality, climate change, environmental degradation, peace, and justice.
As a proud signatory of the United Nations Global Compact, we are thrilled to be working on a project that allows us to turn these global goals into everyday business.
The Native Land Information System
We connected with Village Earth back in May. Village Earth is a nonprofit non-governmental organization (NGO) that works for the empowerment of rural and indigenous communities around the world by strengthening intermediate and grassroots organizations through fiscal sponsorship, networking, training, research, and advocacy.
After a few discussions with Village Earth's team about their Native Land Information System, we were certain that this is a project we want to be involved with. The project consists of building a national data portal for Native American Indian tribes in the United States. The Native Lands Data Portal will be a clearinghouse for data related to American Indian Lands.
This portal will promote greater transparency and collaboration in furtherance of Indian land claims, assessing the impact of current and historical policies on Native Americans, and facilitate the storage, visualization, and distribution of data needed by Indigenous people to protect their lands and resources and plan for the future.
Our team of experienced CKAN software developers worked closely with Village Earth to improve the design of their data portal and add additional functionalities through CKAN extensions. We inspected the current installation and ensured its stability. In addition, we employed numerous CKAN extensions to offer benefits to the users of the portal, including data-store function, commenting and open discussions option, harvesting option, activity tracking, and analytics, and enabled integration with useful systems such as Tableau, etc.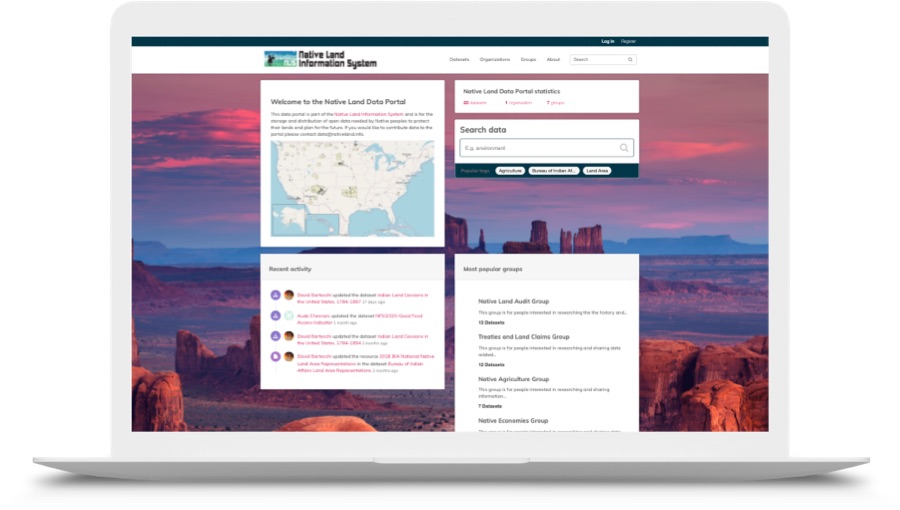 Together supporting the UN Sustainable Development Goals
The NLIS project addresses several of the UN goals, including:
SDG 11 Sustainable Cities and Communities
Under this goal, the NLIS project is aimed at two of the SDG 11 targets, strengthening efforts to protect and safeguard the world's cultural and natural heritage, and supporting positive economic, social and environmental links between urban, pre-urban and rural areas by strengthening national and regional development planning.
SDG 12 Responsible consumption and production
Helping ensure sustainable consumption and production patterns, as well as achieving sustainable management and efficient use of natural resources by 2030.
As part of the SDG 15, the Native Land Information System project supports multiple targets with the goal to protect, restore and promote sustainable use of terrestrial ecosystems, sustainably manage forests, combat desertification, and halt and reverse land degradation and halt biodiversity loss. Specifically, it is aimed to:
Ensure the conservation, restoration and sustainable use of terrestrial and inland freshwater ecosystems
Promote sustainable forest management
Restore degraded lands and soils through innovative technologies
Ensure the conservation of mountain ecosystems
SDG 16 Peace, Justice and Strong Institutions
Promoting peaceful and inclusive societies for sustainable development, providing access to justice for all and building effective, accountable and inclusive institutions at all levels. As an open data portal that offers access to valuable information, the Native Land Information System supports in full the SDG 16 target to ensure public access to information and protect fundamental freedoms, in accordance with national legislation and international agreements.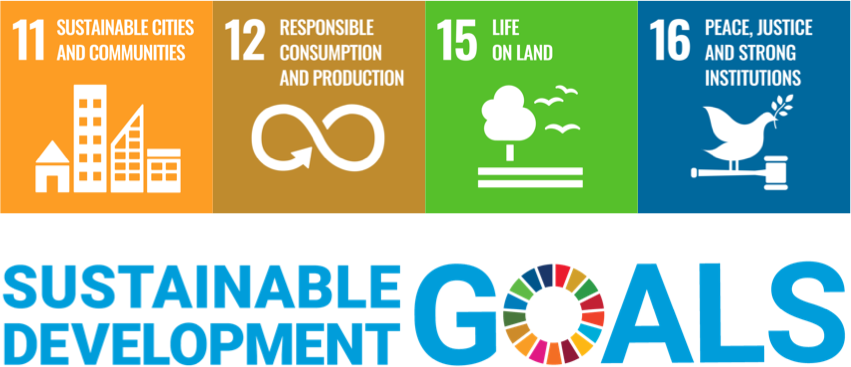 Historically, much of the data about native lands and native peoples is collected and maintained by the United States government, however much of this data is not readily available to tribes and native peoples. Established in 1824, the US Bureau of Indian Affairs (BIA) is responsible for the administration and management of 55 million surface acres and 57 million acres of subsurface minerals estates held in trust by the United States for American Indian tribes and Alaska Natives. Despite this huge responsibility, there is very little transparency or accountability when it comes to the BIA's performance as Trustee. The failure of the BIA to provide even basic information about leasing, transactions and use of Native lands makes public scrutiny of these programs difficult, if not impossible.
Making the following initial batch of data accessible and usable is only the beginning and will help achieve the Sustainable Development Goals and targets.
Data Dashboards
Leasing of Native Lands by US BIA
Soil Capability
Data on Native Land Acreage and Leasing
Racial Disparity in Agriculture on Native Lands
US Native Lands in Acres 1912-1984
What's Growing on Native Lands
Land Covers on Native Lands
BIA Land Area Totals
USDA Census of Agriculture for American Indian Reservations
NLIS Datasets
Coverage of Data Discovered by NLAP on Native Land Areas & Leasing
General Data Concerning Indian Reservations
SSURGO Soil Data for CONUS Native Lands
Native Food Sovereignty Index
Indian Land Transactions
Tribal Land Ownership by State
Final Thoughts
We are excited to see how the Native Land Information System continues to develop and continue to support the UN Sustainable Development Goals in the future. As supporters of the UN Sustainability Goals, Keitaro strives to achieve a better and more sustainable future for all of us. Through next-gen solutions and open-source technologies we face and address the global challenges in order to make change in solving poverty, inequality, climate change, environmental degradation, and promote the importance of peace and justice.