This year, we had the chance to attend the Open Government Partnership (OGP) Summit 2019. It was the first OGP event we have been to and definitely not the last. We didn't only get the chance to meet changemakers from Global Governments, but were also proud representative of CKAN, manning the CKAN booth at the exhibition area, allowing us to represent both Keitaro and CKAN. It was a great feeling to give something back to the community and not only do our best to spread the word about Open Source and CKAN in the community, but also release and announce our great new product Amplus, which is based upon CKAN.
A little something before the conference
Arriving on Tuesday evening in Ottawa we met with other organisations who were also manning the CKAN booth from Thursday on. The event activities started on Wednesday with the unconference, which was an amazing experience. Not only was in great to see some familiar faces, but we also had the chance to meet skilled people and government representatives from around the world. We had many knowledge sharing sessions, structured in a way that different groups of people get together over and over again. This made connecting with new people much easier and we were able to speak in depth about our different topics. As a result of the unconference, people developed the "Open Data Oath", a short document with the most important open values that everyone should know, in order to spread the message around the world. But being an expert is not everything! It is even more important to generally speak about open data and to help people understand it, as well as you can.
Open Government Partnership conference days
From Thursday on we were able to set up and run the CKAN booth. The community supplied a lot of fun things for the people stopping by. We are speaking here about balloons, stamps,amongst other great giveaways. Our mission was clear: CKAN should have the most colorful and most inviting booth at the conference! While other exhibitors were decorated in dark colors and had screens showing demos and business materials out there, we were mostly gathering open data stories from people all around the world and presenting them to everyone who stopped at the booth. Here are some impressions of the booth: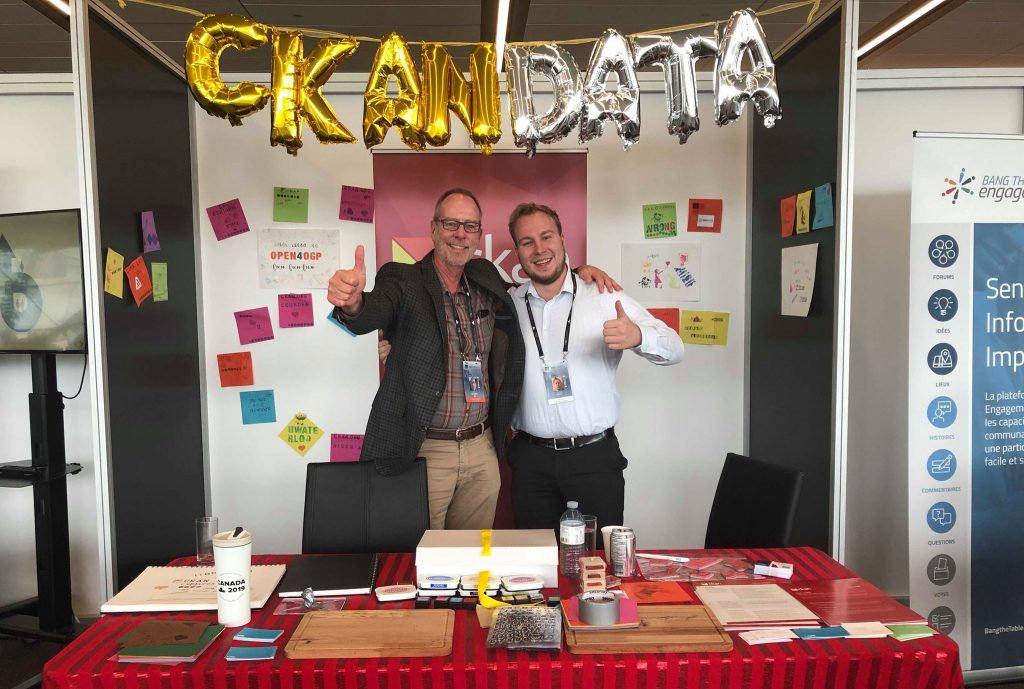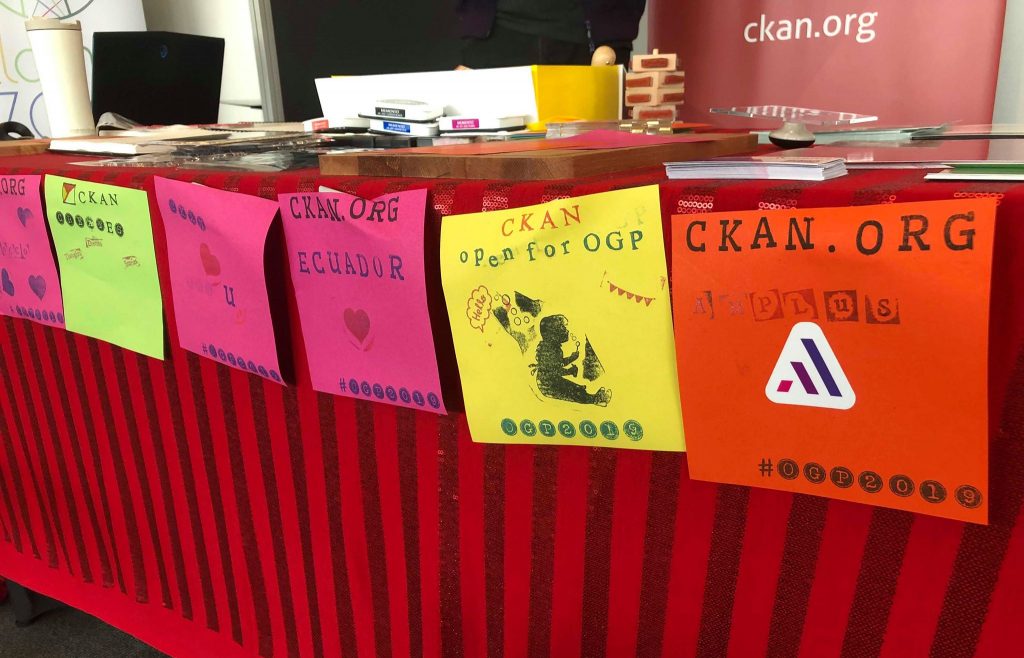 We were positively surprised by the number of people who are aware of the importance of open data! Also by the fact that at least half of the people who stopped by the booth, knew what CKAN is, even though most of them weren't necessarily people with a huge technical background.
I am glad that we received a lot of positive feedback from CKAN users around the world, with comments that we should keep on with the hard work. We were also able to collect ideas, ask questions and get feedback from the community.

Amplus data management platform
Last but not least: During the days of the event we introduced people to Amplus, our new data management software built on CKAN, Docker, and Kubernetes! It was AMAZING! People's reactions were so positive, varying from: 'This could be useful! We will check it out' to 'Wow! We are looking for exactly this! Where can we sign up?'
To be honest, it is just one of the best feelings when a newly launched product on which we have spent weeks and months of hard work, is getting accepted so well. We at Keitaro are really excited to see where our journey with Amplus will lead us in the future and with whom we will have the chance to speak, and especially to welcome to the Amplus family!