When it comes to choosing a cloud service platform there are a bunch from which you can choose. So what makes one stand out over the others, what are the key properties that you should look out for and how to make the perfect choice for your needs. Keep on reading while we break down and compare these three cloud providers.
Let's start by explaining what are Cloud Services?
The simplest explanation describes cloud services as an infrastructure, platform or software that is hosted by a provider and are made accessible to users online. Like any information that is getting processed, cloud services also gather user data from any kind of device on the users' end, "transport" it through the internet to the providers' systems and send the results back. The key point is that users can access cloud services with only a computer, OS, active internet connection or VPN.
There are different types of Cloud Services:
Everything that the users can access through the internet, without requiring any additional software downloads can be considered cloud computing services. Here's how you can differentiate different types of cloud services :
Infrastructure-as-a-Service (IaaS) provides users with compute, networking, and storage resources.
Software-as-a-Service (SaaS) provides users with—essentially—a cloud application, the platform on which it runs, and the platform's underlying infrastructure.
Platforms-as-a-Service (PaaS) provides users with a platform on which applications can run, as well as all the IT infrastructure required for it to run.
Function-as-a-Service (FaaS), an event-driven execution model, lets developers build, run, and manage app packages as functions without maintaining the infrastructure.
It is a debatable question whether clouds are considered as a cloud services, but since they are IT environments that share resources across a network and enable cloud computing within a web-based platform, regarding the previous classification clouds are a type of PaaS.
Speaking of types of PaaS… Here come the Cloud Platforms!
When it comes to cloud platforms, AWS, Microsoft Azure and Google Cloud Platform are the top three. They offer a variety of cloud services such as API management or frameworks. We've made a comparison table to check out their differences and advantages that may help you choose one over the others.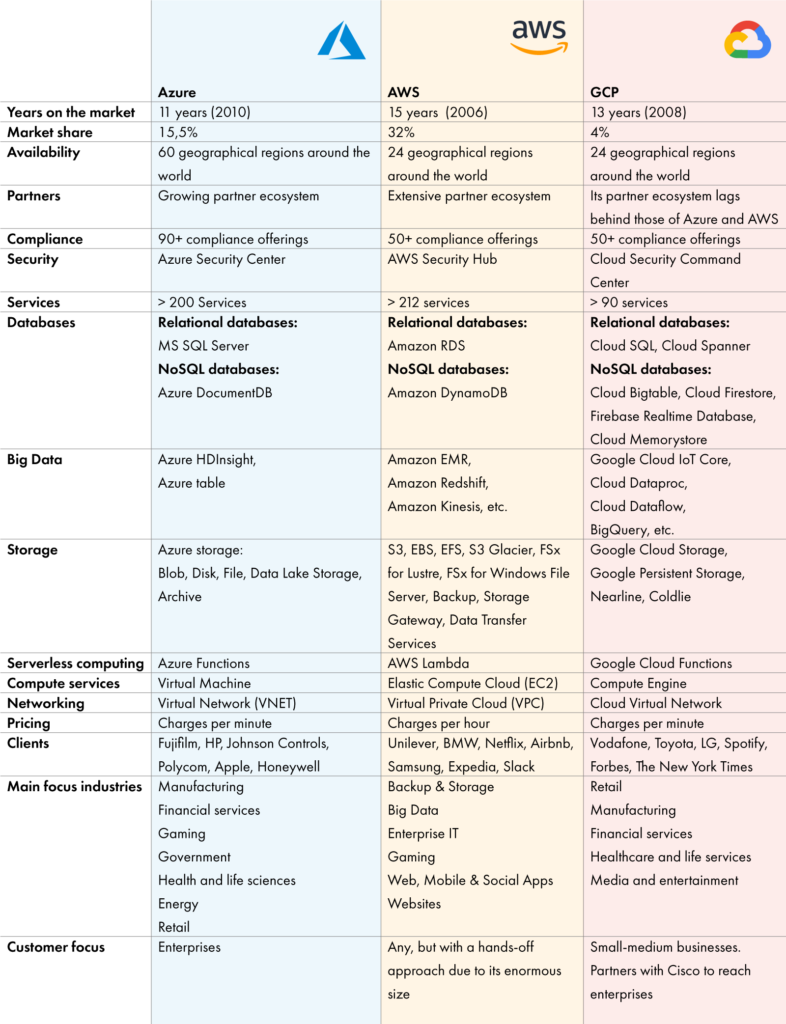 To sum things up…
Why choose Azure?
Comprehensive hybrid cloud support (Azure Stack)
Great availability around the world
Discounts on Azure for enterprises that already leverage other Microsoft's products (Office 365 and Dynamics 365)
The largest number of compliance offerings (90+)
Why choose AWS?
The most established cloud provider
The largest community of customers and partners
Powerful deep learning and machine learning capabilities (SageMaker and AWS DeepLens)
Great functionality
Why choose GCP?
A solid open-source community (Kubernetes, Apache Beam, TensorFlow)
A great range of solutions for big data, machine learning, analytics (BigQuery, Dataflow, Kubernetes, Cloud Machine Learning Engine)
The most cost-efficient option
Live migrations of Virtual Machines
There are many small differences when it comes to choosing your next cloud platform from these three. But keeping in mind your project needs, as well as the fact that they are the leading top three platforms there is little chance of things going wrong with any of them. Of course, that you can always get a professional opinion on the topic before making any choices and it is best to do so with someone that has hands-on experience with all of them.
So, here we are! Whether it is AWS, Azure or GCP we can help you choose the best platform for all of your projects, that will increase your productivity and maintain low costs.
Which one would you choose? Let us know in the comments below!
Sources: Amazon Web Services (AWS) – Cloud Computing Services; Google Cloud: Cloud Computing Services; Microsoft Azure: Cloud Computing Services; N-ix: Comparing the Big 3: AWS vs Azure vs GCP; 2020 State of the Cloud Report by Flexera; AWS vs. Azure vs. Google: Cloud Comparison; AWS vs. Azure vs. Google – What's the Difference from a Cloud Security Standpoint?; Canalys Cloud Channels Analysis.