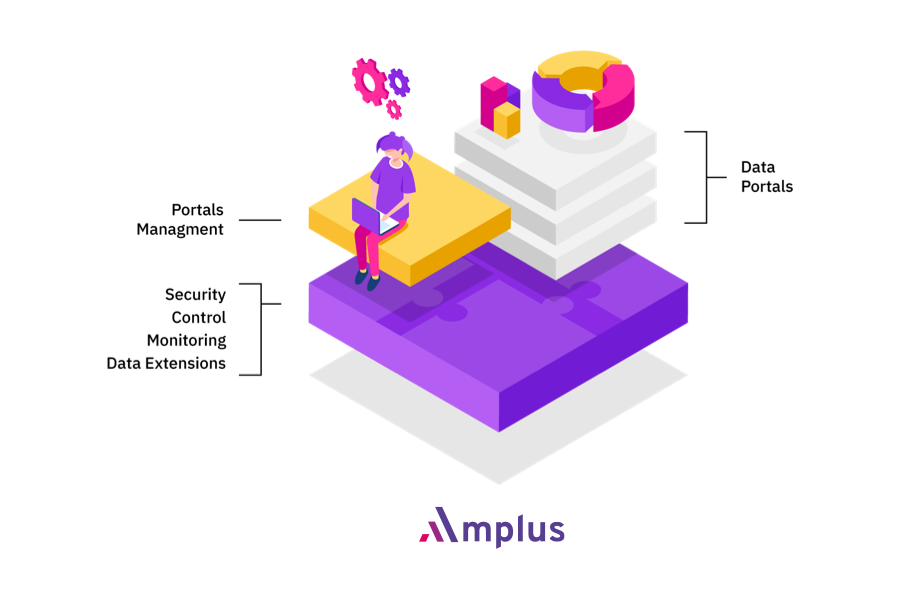 The ultimate data management platform
Data-driven operations have become a part of every organization. Using large quantities of data across different departments can lead to inefficiency however this can easily be solved with an innovative data-powered platform. That is why we used our experience and expertise to create Amplus!
Amplus enables companies and governments to manage and use data through a single portal which perfectly adapts to their data-management needs.
Data-based decisions are a proven way to be confident with your business choices.
Why does your entity need a data management portal?
In its core, the idea of a data portal is to provide relevant and structured data, which can be easily accessed online. The organization of data into groups and collections of datasets, provides a detailed and structured approach to data, that improves its analysis and visualization.
In a world where data is one of the most valuable assets across many different industries, data portals provide us with a structured way to use those assets.
Large amounts of data become easier to manage
Information is available on-demand
Our visual data presentation gives you better insights to help drive innovation
Security is enhanced to prevent the likelihood of data loss

A portal in one click
Need a well-designed data portal with options to publish, categorize and visualize data? Only want to make your information accessible to those who need it?
With Amplus you can create your portal in just a few simple steps. Just log in and start organizing data straight away.

On-demand data
Business-related information needs to be available at all times. For processes such as auditing, administration and strategic planning, multiple information sources will be required so efficient data management is vital. Amplus allows you to access your data anytime, anywhere.

Controlled user access
Access to data in Amplus is based on assigning roles. It provides the opportunity to share data with external parties, or restrict access to certain employees. This option brings another level of security to your internal data, allowing businesses to focus on goals, rather than be concerned about keeping data safe.

Enhanced data security
With Amplus in place, you don't need to worry about losing sensitive data. The platform makes sure that information is backed up and can easily be recovered.

Adaptable data presentation
Amplus offers a wide range of options to visualize your data. Use the different types of charts to organize information and understand it better.
Reach your data-driven goals with Amplus
Start a free trial today